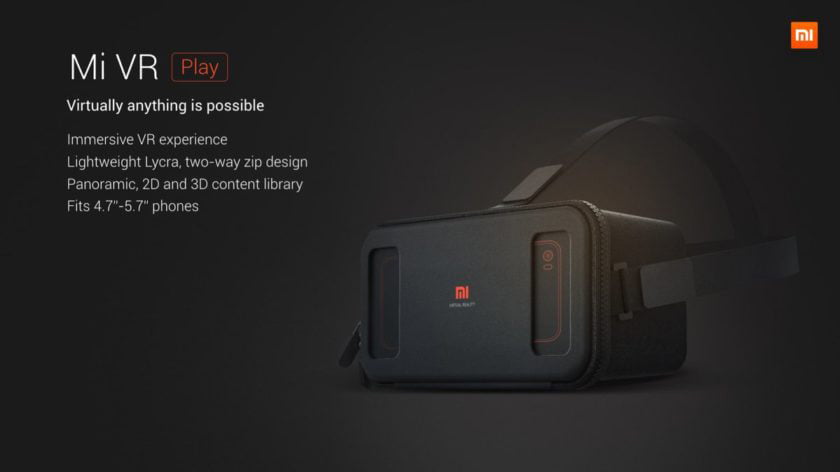 Virtual Reality is on all-time high and many companies are joining the league of developing their own VR headset. Xiaomi is the latest one to join. This really does not come up as a surprise as the company has been teasing about the possibility of the launch for last few days. Let's have a look at the features of Xiaomi VR headset:
The Xiaomi VR features an innovative design with a zipper that helps to hold the phone in a better way. It is composed of Spandex and Lycra. It has been designed to address an important issue that is faced in many other VR headsets which is adjustment. It features two openings at the front so that one can easily adjust the placement of their smartphone. It easily accommodates phones having screen sizes ranging from 4.7-inch to 5.7-inch. The anti-glare lenses and non-slips pads add icing to the cake.
In addition to launch of the new VR headset, the company has also announced Mi VR app. It has partnered with VR content providers such as Youku. The app has been designed to offer you a diversified content ranging from VR-based apps, games and lots more. The users will also be delighted with the amazing personalization design options that the VR headset comes with. So, bid adieu to the boring white trims or the black headsets and get ready to enjoy amazing personalized designs.
As of now, Xiaomi has not revealed the price of the headset but the company has opened the registrations for beta testers. The ones who will be selected would only need to pay a nominal CNY 1 for this VR headset.
This post may contain affiliate links, purchasing that product not going to cost you extra but by your purchase Day-Technology.com will get some little commission and that amount will help in surviving this website. So, please don't hesitate to buy from these affiliate links.
As an Amazon Associate I earn from qualifying purchases.