microSD cards are one of the most useful phone accessories. They are also been increasingly used in cameras, tablets, and other handheld devices. When you are looking for microSD cards with 32GB capacity, here are the best ones to consider. Let's have a look at them:
1. Samsung Evo+ 32GB Class 10 micro SDHC Card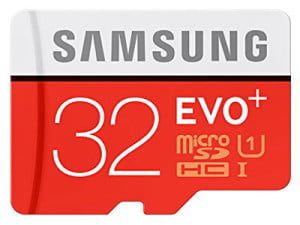 Samsung's Evo Plus microSD Card offers you amazing storage capacity as well as good speed. It can save over 2730 pictures, 4 hours of full HD video or 7660 songs. The most amazing part of Samsung memory cards is that they can survive up to 72 hours of seawater.  They can also endure temperatures from -25 degree to 85 degree Celsius. It remains one of the most popular 32GB microSD cards.
₹667/-                       

---
2. SanDisk 32GB Class 4 microSDHC Memory Card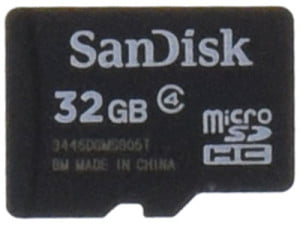 SanDisk is a trusted name when it comes to memory cards. It offers seamless speed and performance with microSD/SDHC compatible device. These have been tested under the most extreme conditions and offer Class 4 speed performance rating. It is an ultimate solution to your storage needs. It is shockproof, waterproof and also remains unaffected by X-rays as well. It lets you seamless data storage.
₹505/-                       

---
3. Strontium Nitro 32GB UHS-I Class 10 Memory Card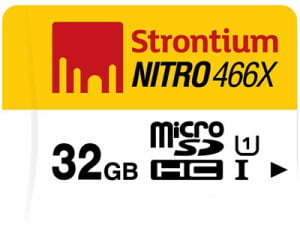 It is a great choice for android-powered and other smartphones and tablets. With SanDisk ultra microSD cards, you can benefit from faster downloads, better performance and higher capacity. You can easily store high quality pictures and full HD videos. It is compatible with all microSDHC, microSDXC supporting host devices.
₹599/-                       

---
4. Strontium NITRO 466X 32GB MicroSDHC UHS-I Memory Card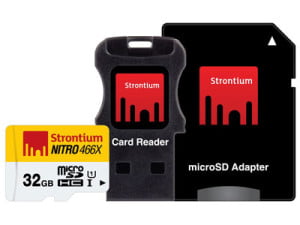 Strontium nitro memory card offers superior mobile data solution for smartphones, tablets, GPS and digital camcorders. It rapidly acquires, play backs and transfers media data including extended durations of 1080p full-HD and 3D videos. It is compliant with the latest SD card specification standards. It is among the popular choices for fastest 32GB microSD cards.
₹640/-                       

---
5. Transcend microSDHC 10 Premium 32GB Class 10 Memory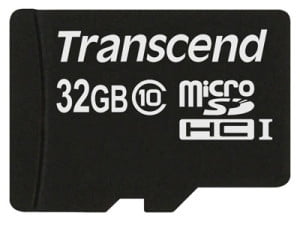 It offers an extra-large capacity for storing high resolution pictures and movies. It comes with a built-in error correction code to automatically detect and fix transfer errors.  This microSD card is compatible with tablets, smartphones, cameras or any other handheld devices. With Transcend memory card, you can be sure that your data will always stay safe.
₹529/-                       

If you are looking for higher capacity microSD cards, check out our post of 64GB microSD cards.
Do we miss out other useful 32GB microSD cards? Let us know about them in the comments.
This post may contain affiliate links, purchasing that product not going to cost you extra but by your purchase Day-Technology.com will get some little commission and that amount will help in surviving this website. So, please don't hesitate to buy from these affiliate links.
As an Amazon Associate I earn from qualifying purchases.